LIMITED TIME MEMBERSHIP OFFER
Our Elite staff is here to make this the tennis community you'll never want to leave. Regardless of age, we work with every player to help you reach your desired tennis and wellness goals. We will ensure you will find a place to belong, make lasting friendships, and thrive in your Elite Lifestyle. 
We meet your tennis needs by offering great value with more than a dozen weekly, pro-led, adult drills. These are included in every adult membership at no additional cost. These drills are an ideal place to improve your tennis game while getting to know your new Elite community, all under the direction of our premier Pro Team.
Pricing Plans
**CHECK OUT OUR COMPLIMENTARY ADULT PROGRAMMING AND INDOOR COURT TIME**
Individual
The following amenities are complimentary with your monthly dues:
ALL ADULT PROGRAMMING

All Adult Elite Compete (match play)

Ball machine usage

Can of balls with each reserved court time

Member Appreciation Events
$99/mo
The following amenities are complimentary with your monthly dues:
ALL ADULT PROGRAMMING

All Adult Elite Compete (match play)

Ball machine usage

Can of balls with each reserved court time

Member Appreciation Events

All reserved INDOOR COURT TIME (excludes Monday-Thursday 6-9 p.m.)

Walk-on feature (when court fees apply, you may 'walk-on,' even during peak hours)
$129/mo Super Saver
Family
ACCESS FOR UP TO FIVE FAMILY MEMBERS
The following amenities are complimentary with your monthly dues:
ALL ADULT PROGRAMMING

All Adult Elite Compete (match play)

Ball machine usage

Can of balls with each reserved court time

Discounted Youth Program rates and Youth Match Play

Member Appreciation Events
$139/mo
The following amenities are complimentary with your monthly dues:
ALL ADULT PROGRAMMING

All Adult Elite Compete (match play)

Ball machine usage

Can of balls with each reserved court time

Discounted Youth Program rates and Youth Match Play

Member Appreciation Events

All reserved INDOOR COURT TIME (excludes Monday-Thursday 6-9 p.m.)

Walk-on feature (when court fees apply, you may 'walk-on,' even during peak hours)
$169/mo Super Saver
Junior
AGES 4-18
The following amenities are complimentary with your monthly dues:
Walk on court time

Ball Machine Usage

Can of balls with each reserved court time

Member Appreciation events
The following amenities are discounted with your monthly dues:
Court fees

Programming rates
$69/mo
Young Adult
AGES 21-35
The following amenities are complimentary with your monthly dues:
ALL ADULT PROGRAMMING

All adult Elite Compete (match play)

Ball machine usage

Can of balls with each reserved court time

Member Appreciation Events
$69/mo
The following amenities are complimentary with your monthly dues:
All Adult Elite Compete (match play)

Ball machine usage

Can of balls with each reserved court time

Member appreciation events

All reserved INDOOR COURT TIME (excludes Monday-Thursday 6-9 p.m.)

Walk-on feature (when court fees apply, you may 'walk-on,' even during peak hours)
$129/mo Super Saver
Senior
AGES 59+ 
The following amenities are complimentary with your monthly dues:
ALL ADULT PROGRAMMING

All Adult Elite Compete (match play)

Ball machine usage

Can of balls with each reserved court time

Member Appreciation Events
$79/mo
The following amenities are complimentary with your monthly dues:
ALL ADULT PROGRAMMING

All Adult Elite Compete (match play)

Ball machine usage

Can of balls with each reserved court time

Member appreciation events

All reserved INDOOR COURT TIME (excludes Monday-Thursday 6-9 p.m.)

Walk-on feature (when court fees apply, you may 'walk-on,' even during peak hours
$99/mo Super Saver
Pickleball Only Pricing Plans
Individual
 Includes:
No Court Rates

Month to Month option

Up to 2 hours per day reserved court time

Reserve up to 7 days in advance

Open Play Format

Same Day Reservation 2 day maximum

Elite Events and Tournament Access
$99/mo
Family
Includes:
No Court Rates

Month to Month option

Up to 2 hours per day reserved court time

Reserve up to 7 days in advance

Open Play Format

Same Day Reservation 2 day maximum

Elite Events and Tournament Access
$129/mo
Couple Plus
Includes:
No Court Rates

Month to Month option

Up to 2 hours per day reserved court time

Reserve up to 7 days in advance

Open Play Format

Same Day Reservation 2 day maximum

Elite Events and Tournament Access
$129/mo + $10/child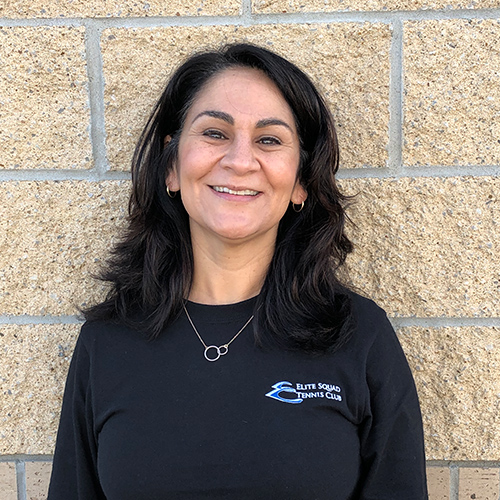 "Jeanette is more than a membership director. She brings people together and is a big part of why Elite has such a strong community. She truly cares about each member and makes sure they have everything they need to get what they want out of the club."